Our menu brings restaurant quality food to the catering world, making your food experience as unique as your event.
From menu planning and tastings, to rental coordination, vendor referrals, to event set-up and on-site staff, our goal is to take the stress out of your planning.
Tell us a little about your event, we'll get you more
information right away.
Meet Jake
Jake's twenty years of culinary experience has allowed him many opportunities at several establishments throughout Nebraska. He was most recently Executive Chef at Sand Hills Golf Club in Mullen, Nebraska before falling in love with his now wife, Stacia. After getting married, Jake moved back to Lincoln where he was able to collaborate with longtime friend Brandon Akert. The two decided it was time to re-introduce Jake's talent back to Lincoln, but this time to the catering world. It was then that Yes Chef Catering was born. 
As Owner and Executive Chef for Yes Chef Catering, Jake's goal is to bring restaurant quality, from scratch food to each event Yes Chef caters. This is done through a Jake's leadership, a talented culinary team, high quality product and an incredible attention to detail and presentation, because as Jake always says "you eat with your eyes first."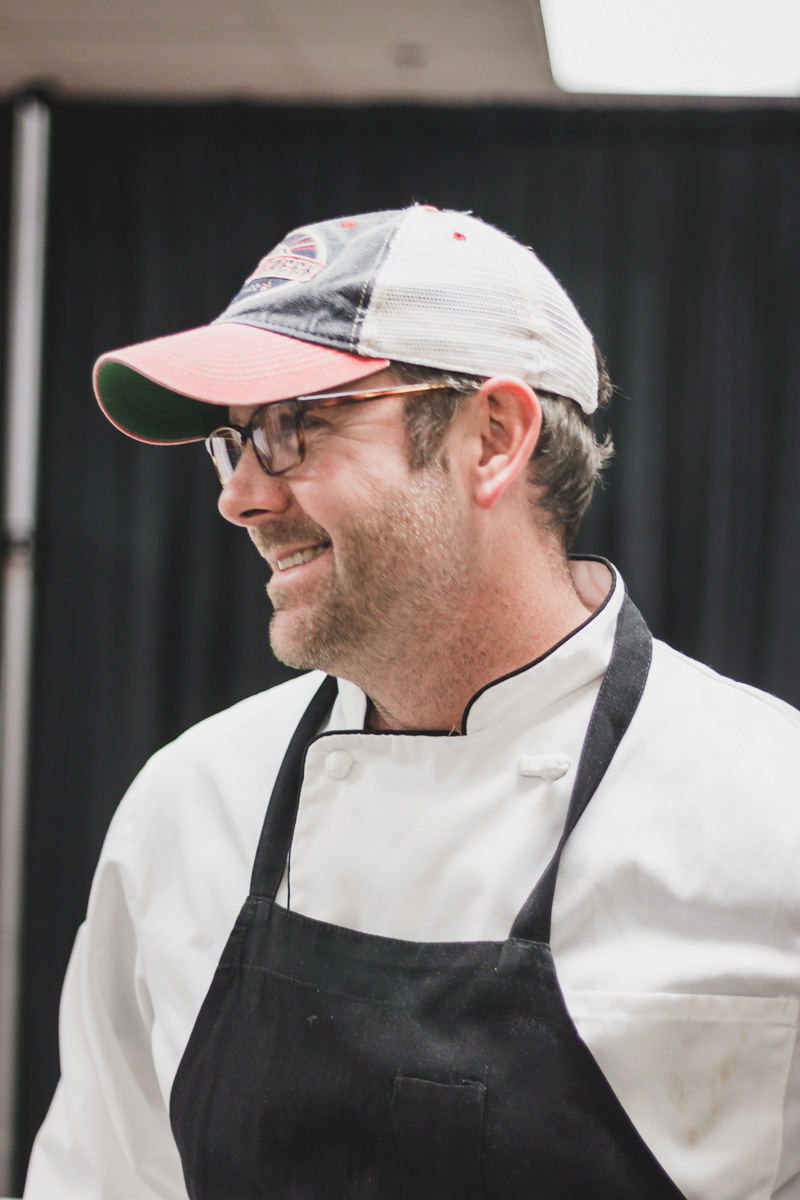 Thanks so much for the great food and service last night and this morning. I know we can always count on you to make our events special. I did hear several people raving about the sliders! I'm sure we will order them again soon.
I had to try the lunch, VERY impressive and very tasty!! I am sure the managers will enjoy this lunch
Thanks for doing such a great job☺
Everything was fantastic from planning to pick up of equipment after the event!  Many compliments on the food!!
WOW…everyone LOVED your sandwiches!!!!!! We didn't have to ask how it was…they commented all on their own right away with SUPER, GREAT, YUMMY comments on the food.  Thank you!!  Yes, I am impressed with Miles! He is very nice.  I am looking forward to see how the Aug 3rd event will go!! 
I can't thank you and your team enough for the exceptional job you did last night. I was so impressed with the professionalism if your team, the quality of product that you bring, and the positive attitude that everyone has. They all completely exceeded my expectations and were such a great help in anything needed. You guys will continue to be my 'go-to' caterers!
I just wanted to let you know that last night was perfect!  The food was delicious and we had a lot of people commenting how great it was.  Jay and Ricio were phenomenal!! They went above and beyond our expectations.  Thank you again for everything and for making our event a success!  We will definitely be using you guys again in the future. 
I wanted to drop you all a note to say how much we enjoyed our meal and service on Friday night. The food was done to perfection and the servers were EXCELLENT!! I had so many compliments, thank you, thank you!! Please let your team know how thrilled we are to have you here in Lincoln!
I just wanted to say a huge THANK YOU! to Yes Chef for the great food at our recent Penguin Painting Party event. The food was great, enjoyed by all – and it's always a good sign when the hosts are so impressed they make sure to ask who catered! ☺
Robber's Cave Social Hall
robber's cave social hall
925 Robber's Cave Rd.
Lincoln, NE 68502
A historic venue for historic occasions, Robber's Cave Social Hall is an event venue for weddings, receptions and special events. Robber's Cave has multiple sized rooms to accomodate to your guest size. 
Our goal is to take the stress out of your planning by providing everything you need to bring your event to life. This includes menu planning and tastings, rental coordination, event set-up and on-site staff.
817 R Street
Lincoln, NE 68508
Styled after the dance clubs and lounges of the 1940's, The DelRay Ballroom and Lounge hosts music, classy cocktails, and ballroom dance lessons every night of the week, and is available to rent for special occasions.
Whether stopping by for a cocktail after a movie, out for a date and some quiet conversation, or looking for some fabulous dancing entertainment and a night out on the town, The DelRay Lounge is the place to be in Lincoln, Nebraska.
344 South 2nd Road
Palmyra, NE 68418
When it comes to planning a special event, think of Glacial Till Vineyard's Event Center. The setting is rural and picturesque with great views of the vines and wines that are crafted at the Glacial Till Winery & Cidery. The Event Center offers large indoor conditioned spaces for both summer and winter use. The facility is separated into two levels; the main level which includes a large outdoor patio, the wine bar, bathrooms, and a large configurable space. The lower level includes two separate barrel rooms which are configurable, bathrooms, and a lower level lanai covered patio which opens up to the west lawn.The Event Center is not open regular hours, so be sure to contact Malorie for any inquiries or to set up a time to tour the facility.
Max capacity: 300 total. Upstairs Main Reception Hall: Max of 128, Downstairs Larger Room: Max of 128 Downstairs smaller room: Max of 56
600 Q Street
Lincoln, NE 68508
Our space can hold up to 60 people with rectangle tables and 100 people with round tables. Our space is just under 1,800 sqft. It can be broken down into thirds, with 2 airwalls.
10501 Pine Lake Rd.
Lincoln NE 68526
The Valley Room, a great venue for intimate sized receptions boasts a rustic fireplace, dance floor, and large outdoor balcony overlooking the golf course. Considering an outdoor wedding? The Wedding Oak at Hidden Valley Golf Club is a beautiful site to share your vows surrounded by nature, the large oak tree and surrounding pines provide a beautiful backdrop for your special day and is just steps away from your reception venue providing an outdoor venue like no other. Once you say your vows the course lake has many unique places for photos amongst the beauty of nature.
728 Q Street
Lincoln, NE 68508
Ironhorse Private Event Room is a classy yet comfortable atmosphere, making for a great place to host corporate events, tailgates, business meetings, rehearsal dinners, birthdays and holiday parties. The event room is located at 728 Q Street Suite B in the heart of the Historic Haymarket Lincoln.
140 N 13th St
Lincoln, NE 68508
The Rococo Theatre, restored to its 1929 condition, is Lincoln's high-end concert venue that provides the intimate setting for the region's best entertainment, as well as the hottest national touring acts to perform live on stage. It's also the perfect venue to host your special events.