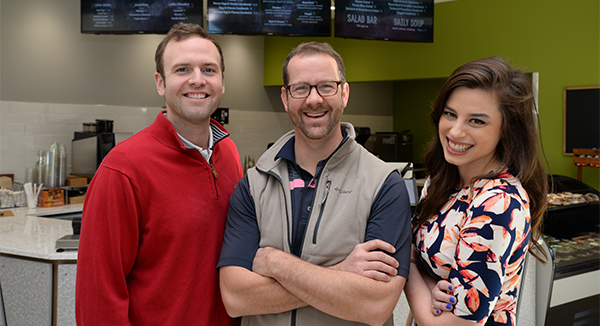 Yes Chef Provides Gathering Place, Builds Community
Serving a variety of breakfast items, salads, sandwiches, soups and more, the new Yes Chef Café provides a gathering spot in Hawks Hall. Brandon Akert '12, developed the first version of Yes Chef from a three minute business pitch for a Center for Entrepreneurship competition when earning his hospitality degree.
"I wanted as many experts to hear my business plan as I could get," said Akert, co-owner of Yes Chef Catering, the forerunner to Yes Chef Café. "Both the negative and positive feedback helped immensely. I learned to find investors who like to take risks."
Akert met Yes Chef co-owner and culinary expert, Jake Thiesen, in 2010 and five years later, they created Yes Chef Catering. After securing a large account, the need for additional help brought Claire Cuddy '11, onboard as director of events and operations. Though the catering business continued to grow, they were intrigued by the search for a café and catering partnership at the new College of Business.
"We saw an opportunity to completely adapt our model to match the needs and vision of the college," said Thiesen. "This is a major milestone for us. We're excited and proud about what we have already accomplished."
Cuddy, who originally met Akert in the hospitality program at Nebraska, explained the partnership came together so fast "they barely scratched the surface of their potential" at the college.
"I want to see more student engagement in the café. We've got an incredibly enthusiastic demographic and I want to match it," said Cuddy.
The café offers seating or purchases can be taken to other seating areas in the building. The important factor to Rik Barrera, associate dean of student services and chief operating officer, is the café offers the opportunity to build community.
"Our desire to build community with faculty, staff and students led us to want a café and catering operation to make Hawks Hall a place where students could come and stay all day," said Barrera. "Yes Chef was eager for this venture and presented a great proposal. It's always a bonus when we partner with Nebraska alumni who have gone on to Start Something."
Article by The Daily Nebraskan by huskeralum.org
https://www.huskeralum.org/s/1620/social.aspx?sid=1620&gid=1&pgid=1559