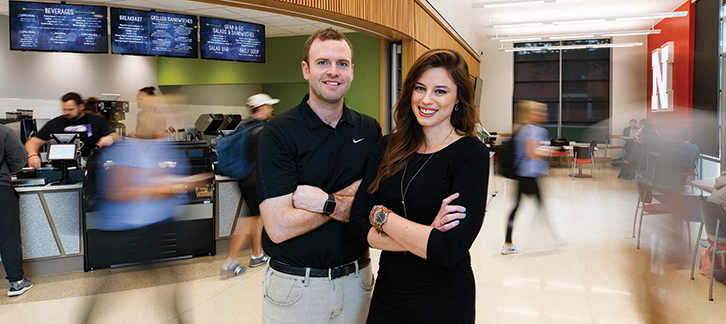 Alumni hone business plan in college and now it's a reality
Visit any busy restaurant kitchen, and you're likely to hear the phrase "Yes, Chef!" called out a few times. It's a common, well-known acknowledgement in the industry, letting the chef know his requests have been heard and are being met.
To Brandon Akert ('12), those two words became a catchphrase a few years ago. "We would be out on the golf course, and someone would make a good shot, and we'd yell, 'Yes, Chef!' " he said. "It was just such a common, crucial phrase in our lives that it became kind of an inside joke outside the kitchen."
Now, Akert hopes "Yes, Chef" becomes a catchphrase with a whole new crowd — and certainly not as an inside joke.
The Yes Chef Café began serving the university community Aug. 21 in Howard L. Hawks Hall, the new home of the College of Business at 14th and Vine streets. Nestled in the bustling southeast corner of the building, business is booming. Students pass through on their way to and from class, stopping to order a quick bite.
The café is the newest addition to Yes Chef Catering Company, a venture Akert founded with longtime friends Claire Cuddy ('12) and Jake Thiesen. The café features a variety of food for hungry, hurried students and faculty, ranging from grilled sandwiches, soups and salads to bagels, muffins and beverages.
The team's recipe for success is simple. Akert is the risk-taker, willing to step out of the comfort zone to bring the big picture into focus. Cuddy, as director of events and operations, is more systematic and practical — "How would this work, and how do we make it work?" Thiesen is the culinary genius whose edible creations keep people coming back for more.
Mix in delicious, high-quality food, prepared with care and creativity, and served quickly and courteously, and you have a tasty final product. While some ventures suffer from "too many cooks in the kitchen," that's never been a concern — metaphorically or otherwise — for Yes Chef.
"I just don't think we can fail with the three of us and our personalities on the team," Akert said. "Jake is the most talented culinary person I've ever met. It doesn't matter if he's making macaroni and cheese or filet oscar — his heart and soul are in every product. Claire plans every event to a T and makes everything great, taking care of every conceivable detail. And I try to mold it all. It all comes together well."
Of the three partners, only Thiesen originally had his sights set on a culinary career. His background includes work at Omaha coffee houses, The Venue restaurant in Kearney, and as a chef at the Lincoln Country Club, Firethorn Golf Club and Sand Hills Golf Club near Mullen, Neb. He attended college at Nebraska and studied culinary arts at The Art Institute of Colorado in Denver.
Cuddy had planned on a social work career. But after a visit to the Hospitality, Restaurant and Tourism Management booth at a UNL career fair, she soon decided to change course.
When he started at Nebraska, Akert was a biochemistry major who practically lived in Hamilton Hall. Although he loved science, he eventually decided he didn't want his face buried in a chemistry book eight hours a day.
"I realized I wanted to do some restaurant and hospitality-related things, so I figured out the degree I needed to make that happen," he said.
In one class, Cuddy and Akert worked together on a project, crafting a business plan that became the foundation of Yes Chef. Their professor liked it, and Akert subsequently floated ideas to other professors whose feedback helped hone his blueprint.
Akert and Cuddy earned bachelor of science degrees in hospitality, restaurant and tourism management, where they were among the fledgling major's first students. The program has since evolved to include internships, international trips and class speakers — including, occasionally, Akert and Cuddy.
"We have really come full circle, going through the program and now opening a café on the same campus six years later," Akert said.
Article by The Daily Nebraskan by huskeralum.org
https://www.huskeralum.org/s/1620/social.aspx?sid=1620&gid=1&pgid=1559